Kilkivan to Kingaroy Rail Trail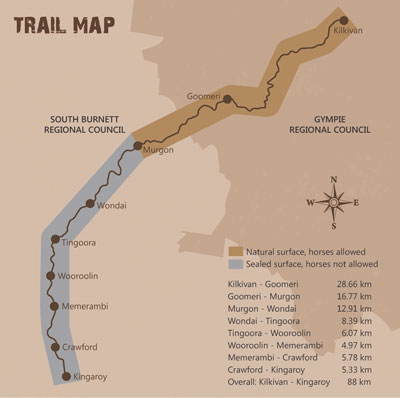 The Kilkivan to Kingaroy Rail Trail follows the old railway line between the two towns. It is 88km long and passes through Goomeri, Murgon, Wondai, Tingoora, Wooroolin, Memerambi, and Crawford. The trail has sealed and unsealed paths.
The unsealed path is from Kilkivan to Murgon and is best for bushwalkers, mountain bike riders and horse riders. This is a true trail experience for the more adventurous. You will cross roads, waterways and stock routes.
The path from Murgon to Kingaroy has a sealed surface and is for walkers and cyclists only. There are a few places to stop along the way for a coffee or lunch.
You can bring you dog along, but please keep it on a leash.
Download the Kilkivan to Kingaroy Rail Trail Brochure.
Proudly funded by the Queensland Government in association with Gympie Regional Council and South Burnett Regional Council.