Important Information
To make sure we collect your bin please check that:
your bin is at the roadside by 6am on the collection day, handle towards the house, with the lid closed
the bin does not block pedestrian pathways or vehicle access
the general rubbish and recycling are not cross-contaminated
you have bagged all loose rubbish such as dust, kitchen scraps and grass clippings
you have not bagged the recycling
the bin is not overloaded (maximum weight is 70 kilograms)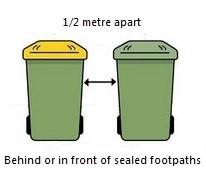 When your bins have been emptied, please bring them in as soon as possible so they don't become a safety issue.

There can be a number of reasons why bins are not emptied. These include:

A bin service is not connected to the property. If you are unsure whether bin services are connected to your property, please contact council.
You have too many bins out
Bins were put out for servicing after 6am
The bin is not a Cleanaway bin or has been purchased privately (it may be from a different local government area)
There may have been long items protruding from the bin (lids should be able to close)
The bin was too heavy to lift (truck lifting devices have an in-built safety cut-off at 70kg)
The bin was emptied but waste was stuck in the bottom of the bin
The bin is in an unsafe location or facing the wrong way
The recycling bin was contaminated with general waste, liquid waste, green waste or hazardous waste
The waste bin contained liquid waste or hazardous waste.

If none of the above reasons apply, and your bin hasn't been collected by 4pm on your collection day, please contact us.

If you have a disability, or are frail and have no one to help you, council offers an in-home collection service. You will need to apply for this service but once approved, the driver will help you with your bins. Please contact us for more information.

Any general household waste, other than items specified below.

Asbestos
Ashes, liquid waste
Medical waste, needles and syringes
Household and industrial chemicals
Motor oil
Paint
Gas cylinders
Heavy items, such as car parts, tree stumps, rocks
Heavy construction and demolition waste, such as concrete, bricks and timber off-cuts

See our special waste categories page about disposing special items. Here are some other things to note:

Place needles and syringes into a rigid plastic container with a tight-fitting lid (e.g. sharps container) and take to the Gympie Hospital
Take small LPG gas cylinders to a waste management facility for recycling
Large (household sized) LPG cylinders will need to be returned to the manufacturer
Industrial gases, such as oxygen and acetylene, needs to be taken back to the manufacturer
Garbage collection trucks cannot lift bins if they are too heavy. Heavy items can be taken to a waste management facility for disposal.

The driver will usually leave a sticker on top of the bin if there is a problem. If this happens, contact council or Cleanaway on 5482 6226.

Garbage trucks have cameras so drivers can see inside the bins as they empty. They are able to scan the waste for hazardous items before the bin empties into the truck. If the driver sees anything unusual on the camera they will place the bin down and check it. If the driver confirms that there is hazardous waste or a contaminant they will put a sticker on the bin. If the driver confirms that there is no hazardous waste or contaminants, they will empty the bin.

The driver will not remove documents or personal information from your bins when they are checking them.